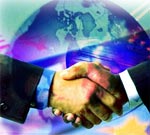 GHARPURE GROUP OF COMPANIES
The Group is headed by Mr. Y.H. Gharpure earlier Managing Director of M/s Hindustan Antibiotics Ltd., Pimpri, Pune. Mr. Gharpure is a Chemical Engineer with 46 years of experience. The group companies include.
The Group has its head office in Fort and design office at Pune.The Industrial clinic and Polyclinic is coming up at Pune. The clientele over last 23 years practically includes all the leading companies in Chemical and Pharmaceutical field in India and many from abroad.
The services offered and activities of Group Companies follows
GHARPURE GROUP OF COMPANIES
402, Manish Plaza, NIBM Road,
Pune 411 048
Tel : +91 20 26831234
Mobile-9820026265
Email :mails_0102@yahoo.com